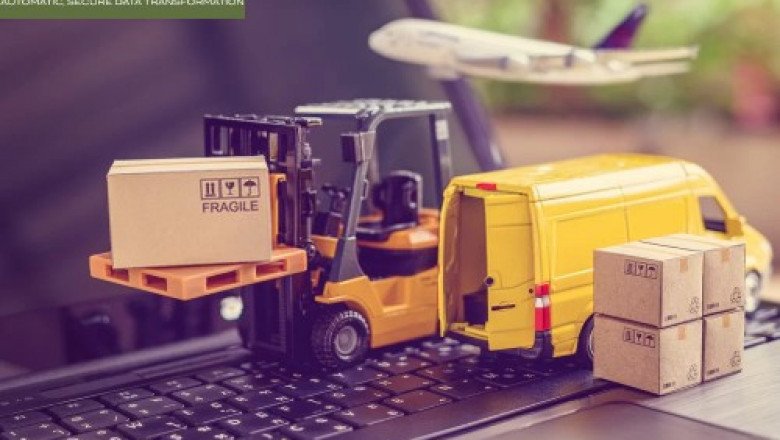 Rapidly shifting customer expectations and a highly competitive market have increased demands for faster product delivery through smarter, data-driven manufacturing.
The year 2020-21 brought a major change in E-commerce, and it accelerated the future of e-commerce and Omni channels of sales and outsourcing. All the companies shifted to omnichannel and e-commerce. If you haven't brought the necessary changes to your company, it is time you fast-track your omnichannel strategy or risk losing your established business. Not moving towards omnichannel can cause a loss in your business and fall short of the expectation.
Established e-commerce firms are looking to plan strategies to optimize supply chain models. Here are some significant changes that organizations should look after when optimizing their supply chain process.
Embrace Dropshipping
The dropship model is an integrated model of supply chain strategy. Dropshipping saves costs such as warehouse cost, extensive hands-on inventory, saves shipping time, and can even expedite shipping time.
E-commerce brands are familiar with the unpredictable market conditions, so having dropship suppliers as a backup saves organizations from potential loss and helps to save costs.
Dropshipping not only helps you optimize your supply chain but also helps generate revenues, and it brings tremendous changes in your supply and increases your profitability. As per DiCentra, Lehigh supply chain study, 53% of manufacturers saw increasing profits due to their renewed focus on dropship practice and e-commerce.
Attaching your brand with a reliable and trusted vendor is crucial as an unorganized supply chain could be disastrous for your brand image and business. Take some time, research the trusted vendors available, compare the vendors and choose the one that fulfills your organizational needs. Get data loaded- make a detailed dropship vendor list so that you consider vendors who will be suitable for your firm and have a long-lasting partnership with your organization.
Forecasting Consumer Expectations
Meeting customers' expectations is viewed as a successful e-commerce strategy. According to DHL Supply Chain Research, 57% of B2B and 53% of B2C respondents believed meeting customers' expectations is "extremely important." Brands have the best chance at enduring and evolving when they anticipate and exceed the customers' expectations.
Let us have a clear view to understanding what customers prioritize from the following data given by the RetailWire survey:
64.3% of customers say that they considered the cost of shipping is a crucial factor.

28.6% of customers say they are more likely to place an order if the expected delivery is within a week.

80% of customers say they prefer a standard delivery of 2-3 days while shopping online.

72.2% of customers don't deliver again after experiencing poor delivery.
In any e-commerce supply chain, delivery plays a crucial part in meeting customers' expectations. Organizations should carefully plan and evaluate how consumers navigate through an e-commerce website. Make sure to take feedback and follow-up from the customers after each purchase to scale the satisfaction level. Also, pay careful attention to competitors and industry trends and study how they adapt to the changes.
Customer needs are not just limited to fast delivery. Here are a few more points outlined by Dicentral to see through customers expectations and meet them:
Offer guidance and recommendations to direct customers towards a solution, especially when confused or unsure of what they need.

Provide real-time status of inventory for visibility and remove the risk of not delivering customers on time.

Create a quick and simple checkout experience that removes the roadblocks for the customers when they add to the cart or checkout.

Provide product tracking showing exactly where the product has reached, providing them with the trust that they will get their product on time.
Double Down on Inventory Management
There is no stop to learnings and improvements in supply chain management. Whether you are a newbie to e-commerce or an old participant, firms always seek out new trends, improvements, and better ways to manage, predict and accommodate your organization's inventory needs.
The following three are the backbone of healthy, enduring inventory management.
Data, Integrations, and Insights.

Business Process

Inventory Control via Technology
It is exhausting to have repetitive and documented processes. Staying ahead of the curve means measuring and managing those processes because even the best systems won't be of much use if it relies on an inefficient process.
Improving the e-commerce supply chain means addressing the shortcomings with customers, suppliers, and all the people involved with the organization and technology that can help fill the gaps. An E-commerce supply chain is all about technology, especially logistics and warehousing.
Organizations must streamline their management, tracking, barcoding, and simplify the warehouse management and operations to reduce cost and fasten the process.
One of the benefits of e-commerce is customization. Customization gives an in-person experience to the customers. It offers customers a sense of belonging, being heard, and valued when organizations give importance to their needs and wants. Big Commerce says," Online business owners need to focus on translating their online brand into an in-person experience beyond the product itself."
Statista predicted that "over 2.14 billion people worldwide are expected to buy goods and services online". It's time to double down on the consumer experience.
HubBroker provides eCommerce integration solutions that accelerate any eCommerce omnichannel or marketplace initiative and help you achieve faster time-to-revenue through out-of-the-box connectors, pre-defined templates, and robust APIs to integrate any direct-to-consumer channel. Our Integration platform helps you grow your sales and is designed to power direct-to-consumer, omnichannel, and digital shopping experiences. Contact us now to learn more about our solutions and begin your modernization journey.