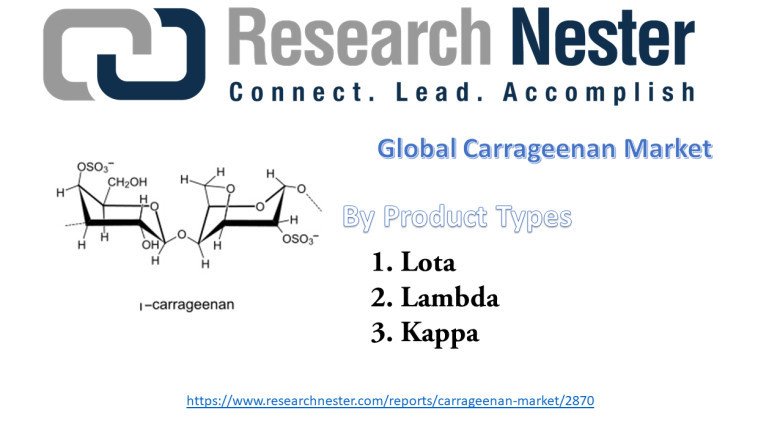 The global carrageenan market is estimated to record a notable CAGR during the forecast period, 2021-2029.
The global carrageenan market is estimated to record a notable CAGR during the forecast period, 2021-2029.
Research Nester published a report titled "Carrageenan Market - Global Demand Analysis and Opportunity Outlook 2029" which delivers detailed overview of the global carrageenan market in terms of market segmentation by product type, application, function, end-user industries and by region.
Further, for the in-depth analysis, the report encompasses the industry growth drivers, restraints, supply and demand risk, market attractiveness, BPS analysis and Porter's five force model.
Get More Details @https://www.researchnester.com/reports/carrageenan-market/2870
Carrageenan is a naturally occurring hydrocolloid and is used widely as a specialty food ingredient for thickening, preserving, and stabilizing agents, and for providing texture to foods and beverages. These food additives are derived from some members of the families Gigartinaceae and Solieriaceae of the class Rhodophyceae (red seaweed). The global carrageenan market is anticipated to record a notable CAGR over the forecast period, i.e., 2021-2029. Factors such as the increasing utilization of carrageenan by manufacturers for manufacturing both food and non-food products, along with the presence of numerous benefits of carrageenan are anticipated to contribute to the market growth in the coming years.
The market is segmented by product type into iota, lambda, and kappa, out of which, the kappa segment is projected to hold the largest market share by the end of 2021, owing to the growing demand for kappa carrageenan from the manufacturers in the food and beverage industry, backed by its properties of forming firm and brittle gels. Kappa carrageenan is used widely in dairy-based products and are known to be synergistically compatible with other gum products.
Based on the regional analysis, the global carrageenan market is segmented into five major regions including North America, Europe, Asia Pacific, Latin America and the Middle East & Africa. The Asia Pacific carrageenan market is anticipated to hold the largest market share on the back of growing production of the seaweed species, including Kappaphycus alvarezii, Chondrus crispus, Gigartina skottsbergii, Sarcothalia crispate, and others, in nations such as the Philippines, and Indonesia among others. Additionally, presence of nations such as China and India, who are known to be the leading exporters of carrageenan globally, is also anticipated to drive the market growth in the region. Alternatively, the market in Europe region is estimated to foresee healthy growth rate, owing to the stringent regulations of the regulatory bodies for use of synthetic food ingredients, which is raising the need amongst the food manufacturers to prefer bio-based food ingredients.
Rising Demand for Bio-Based Food Ingredients from End-User Industries
Carrageenan is known to have thickening and gelling properties, which is why it is preferred widely by manufacturers in the end-user industries for manufacturing dairy products, nutritional supplements, and skin preparations among others. On the other hand, growing awareness amongst the environmentally conscious consumers for the health effects of synthetic food ingredients is further estimated to accelerate the market growth over the forecast period.
However, availability of other substitutes, such as modified waxy starch, xanthan gum, guar gum, or gellan gum, and others in the market, and the health effects related to carrageenan usage is expected to operate as key restraint into the growth of carrageenan market over the forecast period.
This report also provides the existing competitive scenario of some of the key players of the global carrageenan market which includes company profiling of Marcel Trading Corporation, MCPI CORPORATION, Aquarev Industries, Ashland (NYSE: ASH), DuPont de Nemours, Inc. (NYSE: DD), Ingredion Incorporated (NYSE: INGR), TIC Gums, Inc., Ceamsa, CP Kelco U.S., Inc., and Altrafine Gums. The profiling enfolds key information of the companies which encompasses business overview, products and services, key financials and recent news and developments. On the whole, the report depicts detailed overview of the global carrageenan market that will help industry consultants, equipment manufacturers, existing players searching for expansion opportunities, new players searching possibilities and other stakeholders to align their market centric strategies according to the ongoing and expected trends in the future.
Request Report Sample@ https://www.researchnester.com/sample-request-2870
Research Nester is a leading service provider for strategic market research and consulting. We aim to provide unbiased, unparalleled market insights and industry analysis to help industries, conglomerates and executives to take wise decisions for their future marketing strategy, expansion and investment etc. We believe every business can expand to its new horizon, provided a right guidance at a right time is available through strategic minds. Our out of box thinking helps our clients to take wise decision in order to avoid future uncertainties.
Contact for more Info:
AJ Daniel
Email: info@researchnester.com
U.S. Phone: +1 646 586 9123
U.K. Phone: +44 203 608 5919